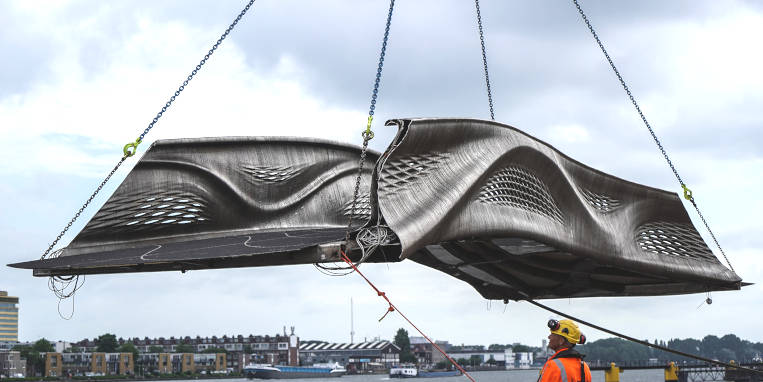 The 12m long bridge was developed by Imperial College and The Alan Turing Institute, built by Dutch company MX3D, and is installed in Amsterdam's city centre. The whole process took four years.
Construction is from stainless steel using wire-and-arc printing, which is similar to conventional hand welding, but in this case the welding tip was held by a robot arm.
Conventional testing was used to answer basic questions about the material before construction – for example: How strong is it, and it is necessary to machine away weld marks before use?
Testing revealed, for example, that even after its surface is machined smooth, the material retains a directional structure and anisotropic properties.
"A 3D-printed metal structure large and strong enough to handle pedestrian traffic has never been constructed before," said Imperial engineering professor Leroy Gardner. "We have tested and simulated the structure and its components throughout the printing process and upon its completion, and it's fantastic to see it finally open to the public."
Continuous sensing will enable researchers and engineers to measure the bridge's health in real time, monitor how it changes over its lifespan and understand how the public interacts with printed infrastructure.
The accuracy of the digital twin will improve over time, and knowledge from that used to predict the long-term behaviour of 3D-printed steel in other construction projects.
"For over four years we have been working from the micrometre scale, studying the printed microstructure up to the metre scale," said Imperial engineer Craig Buchanan. "Research into this technology for the construction industry has huge potential for the future, in terms of aesthetics and optimised and efficient design, with reduced material usage. It has been fascinating."
The Imperial team's work was predominantly funded by The Alan Turing Institute, with additional funding from the Engineering and Physical Sciences Research Council.
For more technical information, Science has published three papers:
Testing and initial verification of the world's first metal 3D printed bridge (abstract)
Mechanical and microstructural testing of wire and arc additively manufactured sheet material (full paper)
Metal 3D printing in construction: A review of methods, research, applications, opportunities and challenges (abstract)